Some couples opt to use DJs for their wedding celebrations while others feel that a live band does it for them. Why would one choose the latter option when they could save some bucks by getting someone to spin on the deck? It all comes down to those moments that you want to hold dear to your heart for the entirety of your marriage. A wedding band will come up with songs that will not only speak to you as a couple but tunes that will have your guests bathing in the moments leading to and succeeding your nuptials. Other than this critical aspect, wedding bands also provide the following:
A Lively Atmosphere
Sure, a DJ could take the time to get to know you as a couple, and they could thus play tunes that would be entertaining. However, this does not even come close to what a live band would do for you. As the music plays and the orchestra gets into it, there will be a sudden switch in the room, and you won't help but take in the beauty in the song and the people around you. The electricity will be undeniable, and the love and tears will flow freely. Yes, the music in play may not be everyone's favourite, but there is something about a live performance that gets everyone in a party mood.
Variety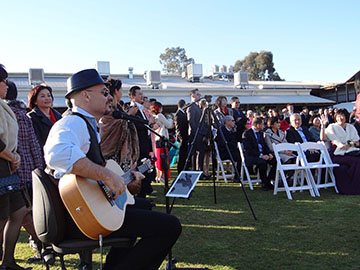 With a DJ, you will find that they rarely specialize in one area as they swiftly move from genre to the other based on the client's needs. However, with bands, there are groupings, and you will find that one group excels at pop songs while the other prefers tributes. In this way, you can zero in on what you want with ease.
Another thing about bands is that they tend to get to the guests. With a DJ, you could help with the selection of ballads which would get a tad boring after the first hour or so. However, with a band, your guests will still be on the dance floor, aching for more tunes as they shuffle from one end to the other. And the great thing about these set-ups is that they are flexible. Let's suppose that you can't fork out enough cash to get you the entire philharmonic orchestra layout. You can make do with a harpist or a string quartet which will have your loved ones beaming in pleasure all through the event.
Interaction
Have you been to a live performance? If you have, then you know that it does not take long before you lose yourself to the music and start swaying from one side to the other as you appreciate the excellent tunes. And that's one of the best things about a live band. As they play, they can tell what the audience will respond to, and it will not be long before they get you on the dance floor busting some moves with your loved ones. And let's not get to how lively the room would be when the band starts a catchy sing-along song that will have your moody uncle responding in glee.
The Romance
It's a wedding, and this is a day that should be about celebrating love. Live music is personal and will have you feeling giddy and closer to your spouse than you ever thought you could be. Imagine yourself wrapped around your lover's arms as you step onto the dance floor for your first dance. Think of the crowd disappearing and there, at that moment is the two of you and nothing but the sound of slow music pushing you closer to each other. Could you wish for anything more beautiful than that?
With all these reasons in tow, would you consider getting a live band?